Jenna Irvin became a business owner straight after college. In her senior year of college she made the decision to use all the money she had to open a Pure Barre franchise after falling in love with technique. By the age of 23 she had opened, sold and bought a business. Opening a business is never easy, no matter your age or experience. Jenna talks about the franchise process, deciding to sell and leading with your heart.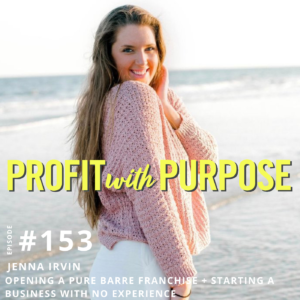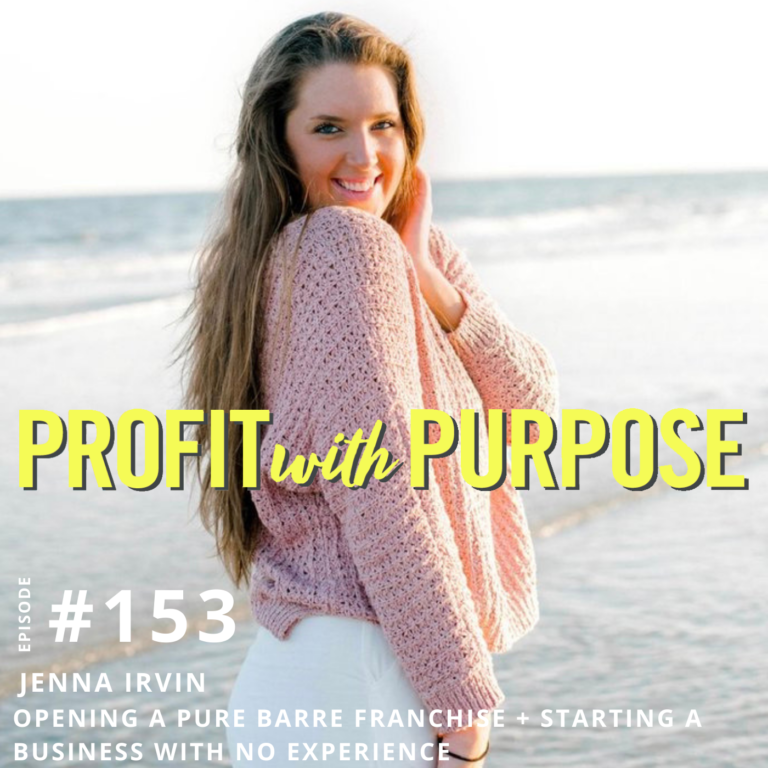 How do you start a franchise?
In her senior year of college, Jenna decided she wanted to open a franchise through Pure Barre. She sent in an application for the market she was interested in. The first step was to prove that there was viability for a studio by looking at the area, the demographics and the real estate available. Interviews then progressed to ensure Jenna had the funding and then the third round looked at Jenna's ability to run a business. The following day after a 4 hour in-person interview, Jenna found out that she was approved to be an owner. She signed the agreement and paid the franchise fee.
How much was it?
For Jenna, it was $46K
How did you have the money? You hadn't even graduated from college yet.
Jenna had invested money in stocks. The franchise fee was almost exactly what she had in her investment account. She decided she wanted to take a leap and invest in herself. Even though she was young, it felt like the right time because she was only responsible for herself.
How did you know you wanted to take that risk? To dive right in and have your own business right away?
She has the kind of personality where she dives right into things. She gives everything her all – her friends, her relationships, her career. Jenna believes that when our strengths are turned up, they become weaknesses, so she has learned to temper it. She spent her childhood watching her parents run their own business together, and this also influenced her.
What business do they own?
Her parents own a cabinet and mill-working company. She grew up listening to her Dad have business conversations. She saw him bring a positive impact to someone's live through cabinets. In college, she discovered Barre, a ballet based strength workout. She fell in love with it. Jenna couldn't touch her toes when she started and had also struggled with an eating disorder. She had a lot of insecurities with her body, and Barre turned that around for her. It was the first time that she wasn't in competition with others or even herself. 
I want to ask you again about your Dad and how he held people's hearts.
He has a way of holding people's hearts while he holds them in the professional space. Jenna believes that we have to connect first as people and then connect professionally. When anybody walks through her studio doors, she wants to know who they are. 
I want to ask you about the first Pure Barre class you attended
Jenna was horrible at it. She has been 6'1 since 6th grade and for a long time was so much taller than everyone else. In sports, her height was an asset but it also meant she didn't have to learn how to be agile and quick on her feet as she could use her height. Her coordination and flexibility were always things she struggled with. Although She wasn't good at her first Barre class, there was something about it that made her want to figure it out. The more she did it, the more she felt the connection to her body and how to learn to be graceful in her own way.
Sometimes we say – 'oh I'm not flexible. I'm not agile'. But we can learn to love the thing that we didn't think was for us. Is that your experience?
A lot of the stories that we tell ourselves don't have to be our story. She told herself that she was the tall girl and wouldn't be flexible or be able to do things that smaller people could do. Telling that story was easier than doing the work it would take to get there. 
How old were you when you took your first class?
Jenna was in her 2nd year at college.
Was there a moment when you decided you wanted to be a Pure Barre studio owner?
Jenna was at home for the summer before her senior year. She wasn't someone who like to work out at home and there wasn't a Barre studio in her home town. But if she stuck with the workout, her Dad said he would look into owning one. She did Barre in her attic over the 3 months she was at home. Then Jenna talked to many studio owners as she could in order to understand what she was getting herself into.
Did you have any conversations where you were like 'maybe I shouldn't do this'?
Jenna was conscious that she was young and investing every penny she had into the business. She was constantly questioning her decision. She knew she needed to separate herself from the good and the bad experiences other people were having. She was gathering data but didn't want to let it influence how she felt about the decision. 
How do you work on your mindset?
Jenna has learned to hear herself first but it has taken a long time to get there. She has realized that she is not her business. Her mindset is terrible when she is evaluating herself based on how her business is doing. She did this exercise, where she had to have coffee with her business. To have a conversation with her business meant it was separated from her. She found the exercise eye-opening.
What was something that came out of that conversation with your business?
She realized that she puts a lot of pressure on herself. Sometimes a goal is unrealistic, and sometimes it is just not right for that time. If she sets a goal and something happens, it's not a failure, it's an opportunity to adjust and an opportunity to grow.
You built this business without any connections. How did you start? When you opened the doors?
When Jenna opened the studio in Frederick, Maryland and she didn't know a soul. She was terrified because she had always lived in places where she was very connected. From the beginning, in her marketing, she told her story. She talked about what the technique had done for her and what she hoped to create in Frederick. She was there from open to close, and although it wasn't part of the plan, she ended up teaching 37 out of 42 classes every week for the first 3 months. But this meant that her clients knew her and she knew them. 
Did you go to local business and introduce yourself?
She did. She researched local businesses that had been open the longest and did her first pop-up at one of them. This connected her with someone who turned out to be important in helping her form other connections. You don't need to connect with everybody, just the right people.
What do you think is a mistake you made with hiring?
Jenna googled 'How to hire', found a guide and followed it. She didn't listen to her intuition at all. She hired based on people's background and experience and not on whether they showed traits that were in alignment with her. Form her first batch of hires, she only had 1 person pass the certification.
What happened when you followed your intuition?
She had a client who had been taking classes from the day the studio opened. She was always just there to work. One day after a class she talked to Jenna and showed an interest in being a teacher because she wanted to show her girls that when you work hard, you can do anything. She hired her on the spot. This hire reminded Jena that she knew what she needed and the factors that were important for the hire.
I want to ask you about selling the business. You sold the business in Frederick, although you still have the one in Hilton Head Island. Tell us a little about how you sold the business in Frederick.
Selling the business was not part of Jenna's plan. She moved to Frederick thinking she was going to live there forever. She had lived in Hilton Head Island to gain more teaching experience while her studio was being built and fell in love with the place. Her studio in Maryland did in the first month what she had predicted in the first year in terms of membership numbers. The studio in Hilton Head Island came up for sale 3 months after Jenna had opened her Frederick studio. Her accountant told her that she would be able to sell her studio for twice what she put into it. Jenna had to make a decision about what would be most fulfilling for her. The sales process took about 5 months. 
What are your failures? I know you've had some heartbreak?
When she took over her new studio, she thought that purchasing an existing studio would be more easier than starting one from scratch. It was actually harder because she had to try rewrite that existing business. It was a challenging process. 
Jenna was terrible at balance and couldn't keep balance with her friendships. Her relationship ended when her business opened. She threw herself into the business in the first 3 months to the extent of everything else. With her new business she is trying to keep a better balance with her life. Don't let moments pass you by because you fell that your business needs all of you all of the time.
You played Basketball. How long did you play that for?
Jenna played basketball from 3 years old to when she graduated from high school.
How do feel sports has impacted you?
Sport has given Jenna the work ethic and discipline that she has. Sport required responsibility discipline and dedication so when her business requires those things, she doesn't bat an eye. Sports taught her to be a team player and take ownership of the things she could've done better. 
Do you still attend Barre classes? Do you do anything else for fitness?
Jenna does Barre 4 times a week and has gotten into lifting weights and running. But Barre is where she grounds herself mentally and physically. 
How do you fell Pure Barre has helped you mentally?
Pure Barre has transformed her mentally. It has transformed her insecurity. She had to overcome an eating disorder and a place where the scale had power. She was concerned about calories and did exercise to burn off what she had eaten instead of moving her body because it felt good. Jenna pushed her body on days it needed to rest. It was all out of tune with her own needs, and it is impossible to be out of tune in a Pure Barre class. In a Pure Barre class, you have to be connected to your muscles so your mind doesn't have time to go anywhere else. It has been the biggest part of her healing from the eating disorder. 
In Jenna's studio she tries to keep the energy about being welcoming and accepting. It is not about changing anything about yourself. It is about celebrating that your chose to be there and you are choosing to get stronger. It is a celebration about all that you are and all that you will become. 
Can you give a quick example of a movement you would do?
There is a movement called chair. You pull off the bar with straight arms. Your seat is at the level of your knees. The back is flat and the chest is proud. And you hold that. The work is isometric, you want to focus on the contraction. The movement is secondary and a mental distraction. The isometric work is where the magic happens.
What's the best advice you've ever been given?
This comes from her Dad. Before every basketball game she would take her hand to her heart, tap her heart and point at him. It was a reminder to lead from her heart. He also tells his kids to never look back. Which is her reminder that she can dream as big and as passionately as she wants to.
Tell us how we can get in touch with you
Instagram: https://www.instagram.com/jennairvin
Website: https://www.jstandingtall.com/