My guest today is my mentor Mastin Kipp. He is an entrepreneur, best-selling author and peak performance coach. The first time I saw Mastin was in 2009 while watching Oprah Winfrey's life webcast. He was on there twice but the first time there was technical difficulties so he didn't get to ask his question.
Oprah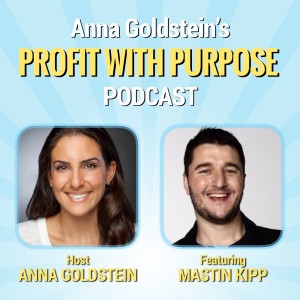 Before the show they sent him an Oprah Skype kit that came in a black box, told him he had to be somewhere with great internet, made sure his background and clothes were just right and gave him a list of questions that were going to be asked. A lot of anticipation went into a twenty-second moment. Then when Oprah asked "Mastin Kipp what's your question?" and he started to talk it immediately cut away from him because of technical difficulties. He thought the world was over. But the producers called him and said they wanted to have him back on the next day and it worked out.
How Mastin went from couch surfing to being on Oprah:
When people ask Mastin how he did it he says he really doesn't know, other than publishing and being consistent and focusing on serving people.
Being in "the zone"
The night before being on Oprah he and the people in his group did some yoga to get their mind right and calm. Then when he got there and the lights were on it's like he went over here and something else came forward. It's the same anytime he is speaking whether at seminars, retreats or coaching sessions. It's an altered state that he has learned to trust. When you're in that room with people and can follow that intuitive voice and let it speak through you you will serve the other people in the room.
Mastin avoids inflammatory foods and sugary substances. He makes sure his body is taken care of and he exercises before he goes on stage.
Practice
It's something you have to practice. When Mastin was a music manager he was always focused on cultivating talent at the highest level. When they would work with "baby bands" (bands that are not known, aren't on the radio, don't have a following yet) there were certain things they would have them do and one of them was to play as many live shows as possible to get their live game down. In the music business, you live or die by your touring capabilities.
When he decided to get into speaking he booked a bunch of gigs. In the last seven years, he's done around 500 events. At some point in 2014 he did around 35 shows in 37 days and about halfway through that tour he stopped caring about what the audience thought. He was so tired he just didn't care anymore. What's interesting is the response went up after that.
You have to practice because if you're in your head you are thinking about what you have to say versus just trusting what's going to come through.
Mastin's biggest struggle
Mastin suffered for a long time with a fear of being seen. When he was a music manager he was hiding behind his clients. But at some point you have to own your name, go out and teach and be seen. That is something he put off for a long time. His other big struggle was with pre-diabetes.
Living your life purpose versus ego fantasy
You can have your ego's version of your dream which is usually born from disconnection and insecurity and trying to overcompensate for those two things. You can get all the money and fame and not be fulfilled.
If you're going to talk about living your life's purpose it's about two things.
Surrender
Becoming aware of your emotional state
Purpose is not something you do, purpose is generating the feelings you want to feel inside yourself, connecting to a higher power and then with that sense of abundant emotional energy bringing those emotions into the world in the form of courses or books or a business or a relationship or whatever it might be.
Negative feedback
A Course in Miracles says every comment either comes from love or a cry for help. If you have that perspective when you receive negative feedback it makes it easier to say this person must be in pain. Extract the truth, get rid of the projection, and move on.
Amateur mindset
It's an amateur mindset to say "it's easy for you because you're there". Anyone who is there has gone through a lot to get there. If you want to step out of the amateur mindset what you really want to say is "what did they do to get there?" Then make it a priority to model them and eventually you will produce the same results.
More information about Mastin Kipp