My guest today is Sue Henry. We discuss about the topic of forgiveness in this podcast. Sue shares a very personal story in this podcast, which transformed her life into something she could have never imagined. Sue is the founder of I Forgive You Mobile App. She has also written a book titled "Unlocking true happiness."
Background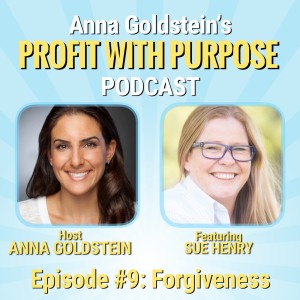 Sue's life took a 180-degree turn in January 2012 when her father was brutally attacked in his home in a robbery.
Her father went into coma and never fully recovered from the injuries he sustained from the attack. It took three months for her father to regain consciousness from coma but passed away a month later. Sue says she never really harbored any sort of anger for the person who did this to her father and forgiveness was something she opted for from first day. Sue recalls that moment when she went to the hospital for the first time to see her father and was surprised to see the injuries his father had sustained. She could not understand how one human could do this to another. She wondered what kind of pain that person would have been going through to commit such a horrendous act. It was also during this time Sue was able to forget all the past differences she had with her father and love him in that moment. Sue did not speak with her father for past five years and had only reconciled with him a month ago. She believes they were still in the beginning of re-building their father-daughter relation. Sue believes this tragedy helped her gain perspective in life and understand things differently in life.
How it shifted her perspective
Sue says she was overwhelmed by her thoughts because a lot was happening around her. She started writing down things and that led her to journaling. For weeks and for months, Sue kept on writing while sitting next to her father's bedside in the hospital. She started writing all the disagreement she had with her father and talk to him about it. She learned more about herself, how a human brain works when we are emotionally unbalanced.
What forgiveness means to Sue?
Sue believes forgiveness is for one's own self and not for others. Sue says forgiveness is "about finding a place at peace that you can go sleep at night and feel okay". She also believes it is not about condoning the behavior of the person who did this but about gaining perspective on why he did it and forgiving the situation.
How Sue dealt with anger?
Sue started playing women' football and says she found peace while doing something which demanded a lot of physical work and energy. She persists on gaining perspective in such situations. Sue believes most of the criminals commit crimes because of the way they are brought up and dealt within the society. During the trial, Sue found out that the man, who attacked her father, had been charged 168 times. He was 12 years old when he was charged for the first time and Sue believes the society failed this man as a young boy.
The story of 'I forgive you' Mobile App
One night Sue was out for dinner with some friends and had this particular thought in her mind. She felt like writing it in her journal but thought it would be inappropriate to write something in her journal while at a dinner table. Therefore, she took out her mobile phone and saved her notes in it. This was when she first encountered the idea of having an app, which could help someone maintain his or her journal. Her idea of having this particular app evolved with the passage of time and the finished app has five different areas in it. They are divided into following five categories:
Forgiveness
Apology
Love
Thoughtfulness
Thinking about you
You can write messages in the app like a journal, keep them to yourself or send them to a particular person. You can also submit the messages to the app and the app sends a response back. The app is available on iTunes and GoolgePlayStore. It is called 'I Forgive You' and it has a picture of swallow as its logo.
Sue has a message for all the people who are undergoing a trauma or struggling with forgiveness. She says one should not focus on forgiving but on what makes them happy. This is because on the path of happiness, forgiveness will come as a part of that journey.
You can connect with Sue on following social media platforms
Facebook: https://www.facebook.com/IforgiveYouApp
Twitter: https://twitter.com/iforgiveyouapp
Website: http://iforgiveyou.com.au
Link for the mobile app is
For iTunes: https://itunes.apple.com/au/app/i-forgive-you/id917052434?mt=8
For GooglePlayStore: https://play.google.com/store/apps/details?id=com.sue.iforgiveyou