My guest today is Gabrielle Bernstein. She is a motivational speaker, life coach and author. Bernstein has written three books. Bernstein has also worked as a public relations entrepreneur and founded the PR firm SparkPlug Communications as well as co-founding the Women's Entrepreneurial Network, a non-profit professional organization that connects female entrepreneurs. In this episode, she talks about trusting your intuitive wisdom and receiving signs from the universe. She shares her story of searching for a new home, difficulties and doubts she faced in the process and how eventually it led her heightening her own intuition.
Background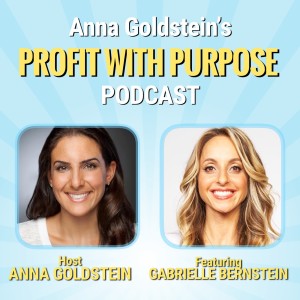 Gabrielle tells about that part of her life when she and her husband decided to buy their first home. Naturally it seemed like a very inspiring idea and they were very excited with what was about to come in their lives. Gabrielle lived in New York and when she started looking for her new home but soon realized hunting for homes in New York is not really a lot of fun. She believes she started this journey at the time when real estate prices were all time high. She along with her husband searched for various apartments in Brooklyn and Manhattan but all in vain. She felt offended and "this isn't fun" become her husband's mantra in reference to looking for a new home. Naturally, negativity stepped in and Gabrielle believes this was the first step which blocked her intuition. The trip to a particular house in Brooklyn was the last nail in the coffin for the couple. Gabrielle felt like it was the most haunted house she had ever walked into. It had that one particular glass case which was full of dolls and Gabrielle felt like they were all staring at her. She went back home and realized it was her negative energy which had completely blocked her intuition and put her life in jeopardy.
Aftermath
On her return home, there came a moment when Gabrielle's inner voice said, "Do what you do best" so she did. She prayed and felt like all the negativity left instantly. Her husband still had this idea of buying their home in east coast and while he was still hoping to buy a house in New York, Gabrielle came up with this strange idea to look for country houses. She was able to convince her husband and then they stared looking for country houses on Internet. One thing led to another and out of nowhere, the couple found this beautiful mountain house in Connecticut. They set up their appointment and went to see the house. As they were driving up to the mountain, Gabrielle recalls her husband saying, "We are not going to have to look at anything else, I think this is the one." Looking at the house, and exploring it was the first time in nine months Gabrielle had that feeling that she finally found her home.
The Doubts
Gabrielle and her husband both loved the mountain house. As she went back home, logic started kicking and Gabrielle was once again on path of blocking her self-intuition. She had these ideas that money they had saved must be spend on a proper home in a city rather than a mountain house. A home where she would have her kids go to school, a home, which should be in New York. At this point, she called her psychic friend and asked for guidance. Her friend had recently bought a new home and Gabrielle wanted to know what she did to buy her home. Her friend told Gabrielle that she asked for signs, that her sign was a dragonfly and that Gabrielle should do the same. For some reason, Gabrielle thought her sign was an owl.
The Owl Story
The next time Gabrielle went to the mountain house, she kept looking for owls everywhere. Ironically, the first thing she saw was a dragonfly on a gift card. On her way back home, she talked to her psychic friend and told her she could not find an owl. She told Gabrielle not to worry as she got a sign, a dragonfly that they talked about. Gabrielle went out from her car to get some tea and walk around. When she came back, she saw a massive bumper sticker and it had an owl on it. However, these signs were not enough for Gabrielle to empower her intuition. The couple did make an offer and Gabrielle was in London when her husband told her their offer had been accepted. However, she still was not sure if it was the right choice, her doubts and fears were still blocking her self-intuition. She asked for more signs from God. The same night, Gabrielle happened to go to this church in London, St. James Cathedral. There was a person at the church who would always give postcards to speakers, which had bears on it. That night he approached Gabrielle and gave her two cards. One had bear on it and before Gabrielle saw the other card; she knew it had the owl. It was her sign she asked for and she got it. However, even with these signs, Gabrielle was still in doubt and not achieved that height of self-intuition. However, on her return home Gabrielle realized she had been denying all the signs from the universe, she had been denying the synchronicity, she was denying her own faith, she was denying her own inner voice, that she was relying on fear and on other people. That realization led to the empowerment of her self-intuition for Gabrielle. She knew she had to buy the mountain house and she did it at last.
You can follow and contact Gabrielle Bernstein on following social media platforms.
Facebook: https://www.facebook.com/gabriellebernstein
Twitter: https://twitter.com/gabbybernstein
Instagram: https://www.instagram.com/gabbybernstein/
Website: http://gabbybernstein.com/