Nicho Plowman who is the co-owner of Insight Timer the number one free meditation app. It's the most popular meditation app in the world has the largest network of meditators which is 7 million. There's 3000 teachers and 6000 groups. Nicho is also the co-founder of Edmund and Amelia, a retreat company and he is a Vedic meditation teacher. He brings an intimate and inspired approach to working with individuals and small groups who are committed to creating lasting positive change and contributing to the greater good. He has over 20 years of experience in both the corporate and startup sectors. 
How did you get started with meditation?
Fifteen years ago Nicho started exploring different things. He was in the midst of building a company and he wasn't living a very healthy lifestyle. He found some peace by going on meditation retreats but when he returned to his busy life he found it difficult to continue with it. 7 years ago he learned Vedic meditation which is a 20min, twice daily, mantra-based meditation. After 12 months he decided to move out of the industry he was in to teach Vedic meditation.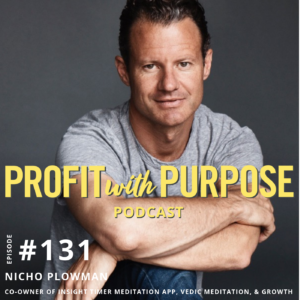 How did you stumble upon Vedic meditation? There's so many different types of meditation.
Nicho tried lots of different types of meditation. A friend suggested he try Vedic meditation, so he did. He found that it was the method that resonated with him the most.
A lot of people can resonate with dabbling with meditation but it sounds like you then took a deep dive. Was there a tipping point for you, where it was enough or was it because you were exposed to a type of meditation which really resonated with you?
Nicho wasn't happy with his life and he feels that the meditation practice was long overdue. Vedic meditation came along at the right time for him. He finds the simplicity and practicality of the practice really attractive. It is doable to find 20mins to practice every day, even if you are busy.
You're married, you had 2 daughters and you were running a business. To become a meditation teacher is a big change. Where does the money piece fit in?
Nicho sold the business he had been building which gave him a bit of breathing room to transition into teaching. He was able to build up some momentum in teaching quite quickly. He realized that some teachers had difficulty finding students. He realized that there was a place for a platform for meditation teachers and with his brother purchased an app called Insight Timer.
Sometimes we think that when we switch gears, we leave the experience we have had behind, but there can be overlap between our previous experience and who we are now.
When Nicho and his brother bought Insight Timer they had the skills and experience to move very quickly with improving the app and making into what they envisioned. He wanted an easier way for teachers to connect with students and be able to take the step to be a full-time teacher.
When they bought the app they were only 5-10 teacher on there, many of whom were well known. They believed that you didn't need to have been teaching for a long time to have value in the mediation world. It gives anybody who has something to say, an opportunity to get out there. Then the audience can decide if they get value from it.
Have you ever worried about the quality control? Or since there is instant audience feedback, do you not have to worry about that?
They are very mindful of quality. There are over 15000 guided meditations and more waiting to be published. They do quality control over audio quality but the content is rated by their audience.
How do you think you grew so quickly? Was it word of mouth?
They don't advertise and so it has all been word of mouth. They now have over 7 million mediators. So far it has felt right that all their users have come through word of mouth.
I have a couple of different mediation apps on my phone and Insight Timer is my favorite one because it's so easy to use.
Nicho does worry that the amount of content and features can complicate the app. They have worked hard to make sure that it is easy to use, despite the amount of features.
What's your experience with being more deeply involved in meditation as a teacher? How has your experience with your own mind changed? Do you find the quality of your thoughts to be different?
Nicho has noticed how he responds to things change, such as food, friends, family, the content we consume. He notices that when he meditates he releases stress and fatigue. He finds he bounces back from stress easier. As we meditate more our bodies release stress and fatigue which help us deal with stress better.
In a stressful situation, we don't have to react. We do have some control in that.
Stress is a physical response that can be a survival tool. But sometimes it feels like that fight or flight stress response is there the whole time. Which is an unpleasant place to be. Meditation can allow you to engage in the world in a way which is not overwhelming.
Meditation can be a really useful tool. I know it's helped me tremendously.
There's a lot of people experiencing deep pain and it feels like the noise is ramping up in the world. But there is also an increase in meditation apps, meditation spaces and yoga studios. Something to counterbalance all the noise.
There's a lot of misconception about meditation, especially for beginners. A lot of people will say 'I tried to meditate and I'm not good at it' or 'it's really hard for me to sit still'. What's your answer to those types of objections.
Often people may not have come across the tight practice for them. There's a misconception that when people meditate their minds should be free of thoughts and if you can't do that then you're not a good meditator. Meditation is a practice that should be effortless and it may take exploring different styles of meditation to find that. There's a danger that when people find a practice that works for them, they find after a while they feel better and so stop meditating. Then 6 months later they'll back to where they were.
What's your vision with Insight Timer?
They want to continue to provide people with these tools and resources. Nicho recognizes that Insight Timer is its own entity. But they want to have 100 million meditators because that will lead to a more conscious planet.
What's a question that you continuously ask yourself?
Nicho hopes that in 20 or 30 years time he can see that his efforts went towards positive change.
Tell us how we can download the app and get in touch with you.
Insight Timer: https://insighttimer.com
Nicho Plowman: https://www.nichoplowman.com/
Links
Edmund and Amelia
https://www.edmundandamelia.com