Karen Salmansohn was formerly a VP ad creative director who left her job to pursue writing. She is known for creating a new breed of highly graphic and feisty self-help books — like her best sellers How To Be Happy, Dammit, Prince Harming Syndrome, Instant Happy and The Bounce Back Book — self-help books that she   describes as being for "people who would never be caught dead reading self-help books" She has sold over 1 million books. Her research-backed happiness tools have been featured on CNN, Oprah, Psychology Today, The Today Show, etc – and will empower you to live a live of love! Recently she launched an inspirational jewelry line on HSN.com. Her jewelry line is a combination of her passion for design and short inspirational sayings to pick you up.  In this episode we talk about how she transitioned her career in advertising to becoming an author and entrepreneur, the value of doing things differently/thinking outside the traditional route, how to manage worrying and so much more.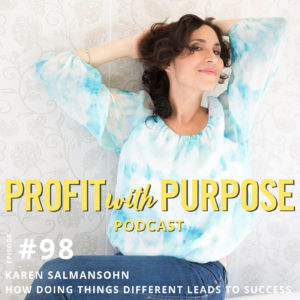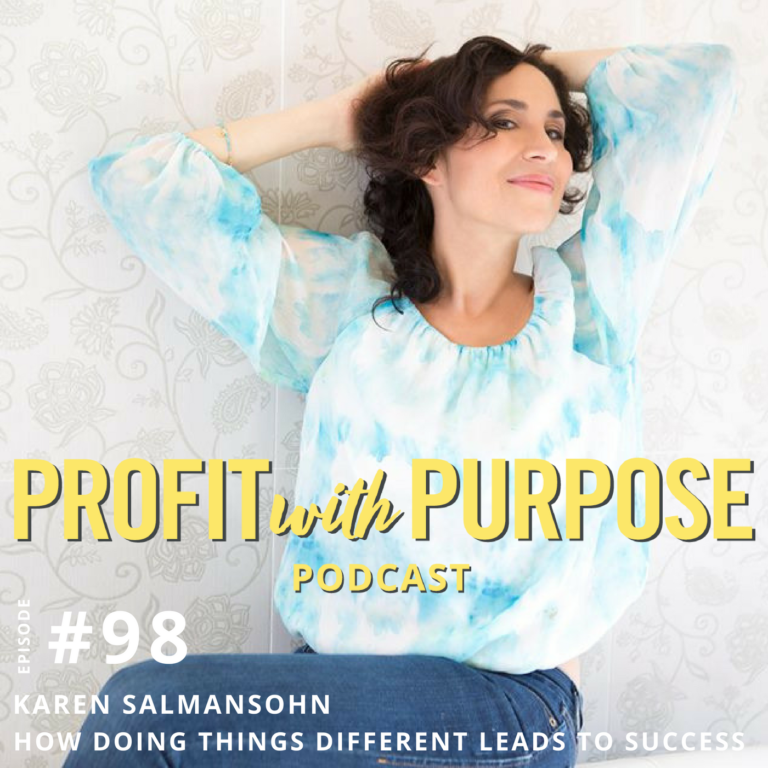 How did you get started in writing self-help books?
Karen always loved psychology and philosophy. She loved playing with words and pictures. Karen's major was in psychology and was a philosophy minor. She found herself a job in an advertising agency because she felt that is where she had to be. She thought she could merge psychology and her love for writing and design, all in her job. She felt it would be satisfying for her. However, Karen did not like this job and felt she was selling her soul. She felt she needed to write more. She started to write her first novel. Even after writing a bunch of novels and publishing them, Karen still found herself reading psychology and philosophy. It was still her guilty pleasure. It was always a part of her personality. One day she went to a buy a wedding gift for her friend. She wanted to get something special and unique. She came across this book titled 'The Tibetan Book of Living and Dying'. She loved the design on the cover of the book and felt like giving it as a gift to her friend. However, she was not sure of giving the book to her friend before reading it herself. She got herself a copy and read the book. She was greatly moved after reading the book. She became so obsessed with it and would talk about it all the time. That is what got her to write her first self-help book titled 'How to be Happy, Dammit' which became an instant best-seller.
Karen says she started off as a funny writer who loved psychology. As a kid, Karen used to read magazines such as psychology today and mad magazine. She took a lot of jokes from these magazines and added in her books. Karen loves to add humor in her writings and always likes to laugh about life. It has been a part of her personality from a very long time. The first book that she wrote was not about self-help, it was actually a novel with a touch of humor. Karen says when she started righting self-help books, most of the books already published were not funny or humorous to read. Karen herself felt embarrassed whenever she read a self-help book. She did not want anyone to see her reading a self-help book. When she decided to write such a book, she felt it should be written in a way that someone caught reading it shouldn't feel embarrassed. She wanted to purposefully write self-help that feels funny and entertaining. She noticed there was a gap in the market. It is also how she naturally writes.
What stood out the most to you in that book?
It was a Buddhist book. Karen never came across a book in which so many aspects were put together in a coherent manner. It talked about Buddhism, psychology, and neuroscience in a concise and well-organized manner.
How did you get into the jewelry business?
Karen says she is a writer who loves to design. Karen loves to play with words as she is a writer and she loves to merge words with design. Karen has worked in ad-agencies in past and she knows how only a few words can be made so powerful with a good and illustrative design. Karen says it was not that far of a leap from designing books that had short powerful word combination to designing jewelry which had short powerful word combination.
Did you face any initial rejections when you started to write books?
Her first published book was a novel. She sent the book out on a Friday with a beach towel and a bottle of suntan lotion to the publishers. She did it to stand out and told the editors the book would make good beach reading. She got an offer next Wednesday for this novel. To get a contract for her first novel, she really did not face rejections of any kind and was lucky enough to publish it without any major hindrance.
Can you give some tips on anxiety, depression and pursuing one's dreams?
Karen writes a lot about anxiety. She wrote a book titled 'The Bounce Back Book' In which she talks about resiliency and how people can bounce back from tough times. She also launched a course on her new video learning site (https://mastersinlife.com) for the anxiety cure. She wrote the bounce book because she had gone through sexual assault. It was a very challenging time for Karen. She started to stress a lot after that incident and gained weight.
What action step would you suggest to someone wanting to turn their passion into a pay check?
Karen herself was in a job she did not like. She thinks we need to believe in ourselves. Find out how other people are doing the work that you do, see if there is something different you can do to turn your work into your passion. Karen also suggests one needs to have a concrete plan because following your passion without a plan can be a problem. Karen started to freelance when she had a job in advertising. She knew she wanted to write but also wanted to make sure money would not be a problem when she would start writing her novel.
What is the best advice you have ever been given?
The best advice she has been given has been passed down to generations in her family. Her grandmother used to say this to her mother who in turn would say the following words to Karen "If you keep doing what you are always doing, you will keep getting what you are always getting". It simply means if you want different results in your life, you need to do something different.
How can we connect with you?
Website: https://www.notsalmon.com
Facebook: https://www.facebook.com/Notsalmon
Instagram: https://www.instagram.com/notsalmon
Video Course: https://mastersinlife.com/
HSN Jewelry: https://www.hsn.com/shop/karen-salmansohn-jewelry/j-19119