Lisa Curtis is the Founder & CEO of Kuli Kuli, the first brand to introduce the green superfood moringa to the US market. Lisa founded Kuli Kuli after working with moringa as a Peace Corps Volunteer. Lisa has grown Kuli Kuli from a Peace Corps dream into a multi-million dollar social enterprise. Lisa and Kuli Kuli have been featured in The New York Times, The Wall Street Journal and hundreds of other publications. She was also named to the Forbes 30 Under 30 "Top of the Class" for Social Entrepreneurship. Lisa is a frequent speaker at social impact and natural food conferences on topics such as supply chain transparency, building buzz, fundraising and millennial entrepreneurship.
Background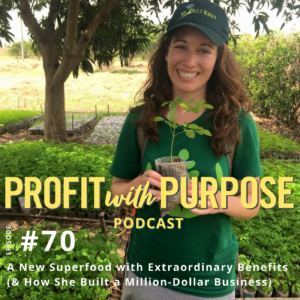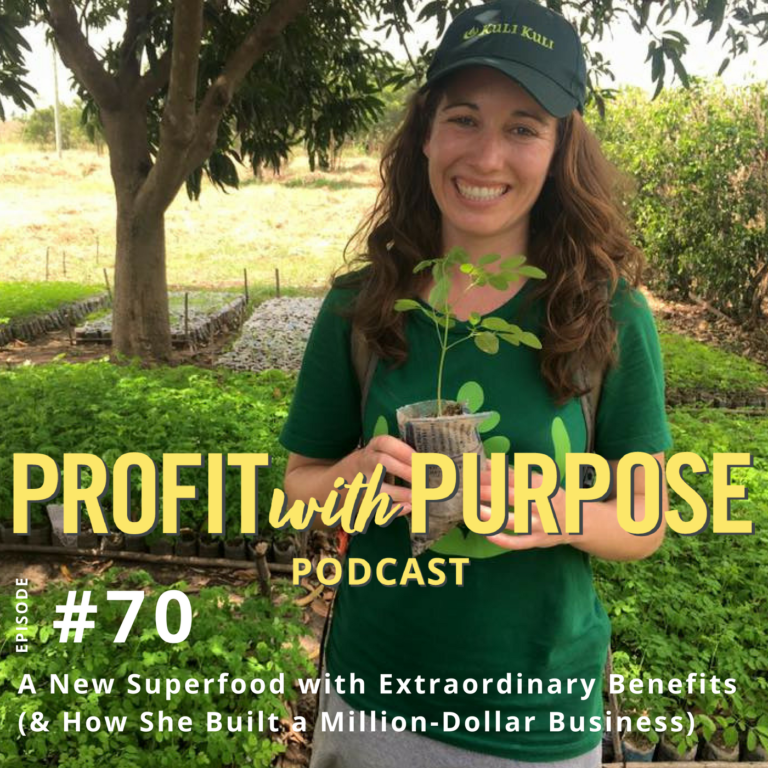 Lisa joined peace corps right after college. She was a politics major and took different classes during her time in college. It was then she developed an interest in the politics of Africa and wanted to travel to different parts of Africa. She wanted to see for herself how people with a daily income of not more than a dollar managed to live and conduct their day to day activities. Through Peace Corps, she was able to travel to different parts of Africa and live in rural areas. It was in Africa when she discovered the nutritious plant named moringa and was able to build a business around it.
How did you discover moringa?
She was in a small village in Niger where she discovered moringa. Being a vegan, her usual diet consisted of rice and millet, a diet that left her sluggish. Some women she was working within the health center told her about this plant called moringa. She got moringa leaves from a nearby tree and mixed them with a local snack called 'kuli kuli'. She felt as if a new wave of energy had entered into her body and was astounded by the fact that such a nutritious plant was not very popular among the locals.
You mention you mixed moringa leaves with Kuli Kuli. What exactly is Kuli Kuli?
It is a peanut snack that is popular all over West Africa. The first time she used moringa was with a mixture of Kuli Kuli and so her first experience with moringa was with a mixture of Kuli Kuli. Later on, Lisa went on to give the same name to her food company i.e. 'Kuli Kuli Foods'.
How did you realize you could make a business out of moringa?
Initially, she wanted to make it popular in the village she was working in. She was surprised that the plant was not very popular in the village and no one really thought of growing it. She thought of selling in a nearby city. However, in the days to follow, some militant group in Africa captured two Frenchmen and killed them. Due to the impending threat, all peace corps members were evacuated within 48 hours and Lisa found herself in the US again. She finally decided to start a food company in the US that would be based around moringa. She started talking to people fro the food industry. She got together with a few friends from childhood, showed them the business plan. They made plans of how they could import moringa to the US from Africa and introduce it to the women. Lisa finally managed to launch her company through a crowdfunding campaign and raised $53,000.
How do you think your crowdfunding campaign became so successful?
There were 800 people from twenty-three different countries that donated in the first crowdfunding campaign. Lisa believes it went beyond personal connections. In the campaign, Lisa shared her story of how moringa helped her in maintaining a nutritious diet through plants. She shared her idea of helping other women improve their diet and nutrition through this plant. She believes her story resonated with a lot of people because of its authenticity. Lisa believes when you seek from the heart and with conviction, people get behind you and help you in the cause.
Where do you get your moringa from?
When she started her business, she would get it from a lady in northern Ghana. As of now, Kuli Kuli is growing moringa plants in West Africa and also in southern America. They have also started to look at the possibilities of growing it in Asia as well.
What has been your biggest challenge in growing your business?
In the early days, fundraising was a challenge, it was really difficult for her to convince people to take this idea seriously. She would mostly get written off when she would pitch this idea to investors. She had to do a couple of part-time jobs during that period to make sure she had enough money for herself. As her company started to grow, she faced different kinds of challenges like managing and leading people and to make sure she has the right people in her team. Lisa believes the role of CEO is that of a captain on a ship; to make sure it heads in the right direction.
What are the major benefits of moringa?
Nutritionally it is incredibly dense. It provides complete plant protein, all essential amino acids. It is also high in fiber, iron and sodium as well. Moringa leaves are also natural anti-inflammatory.
What is the best advice you have ever been given?
In the initial days when she started her business, she had a couple of part-time jobs to make her ends meet. At one point, Lisa thought of quitting from all of her jobs and solely focus on her business. That is when one of her mentors advised her not to quit her day job straight away, rather plan her business and figure out exactly how she was going to launch her business and get the momentum in her business.
How can we connect with you?
To know everything about her products and about her business, you can visit her website.
Her website's URL is
https://www.kulikulifoods.com
You can also find more information about her company through Facebook
https://www.facebook.com/kulikulifoods