I'm so excited to announce the release of my NEW eBook: Awaken Your Source: An A-Z Guide to Self-Transformation.
I was inspired to write this eBook because on my own personal journey when things in my life weren't working out the way that I thought they should – I had a jolt in my stomach (which I now know was my intuition) that told me I was not listening to what I truly wanted.
As I began to take steps towards transformation, I sought out coaches and healers to assist my personal growth. Through the process of uncovering my truth, I felt as though I had to learn a whole new vocabulary of words, what they meant and how to apply them in practical ways.
I read countless books (some of them are listed here) but there was no real resource that gave me a quick pick-me-up to help me immediately shift my thinking.
That's why I created, Awaken Your Source: An A-Z Guide to Self-Transformation.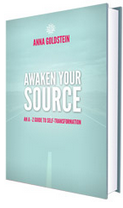 The concepts you will find in this eBook can be used as tools to help you in your everyday life. You don't have to read the entire book from A – Z (although I suggest you do). You can open the book at any page, pick a word a day or find a word that can help you move forward in your day-to-day living. You can also go to the Table of Contents and search for a word that you need when presented with a particular conflict.
There are 155 words; the first word is Abundance and the last word is Zen. Each word offers a quote of inspiration, has a brief description, and ends with a question for you to answer to help you take action in your life. If you download the eBook on your computer, you can answer the questions by typing in the lines!
My hope is for you to use this eBook to bridge the gap between your lower self and your higher self. Too often we look outside ourselves for answers. This eBook is about your journey inward to awaken the source within you.
I believe all the answers you seek are in you, and as you become more self-aware, you will overcome perceived obstacles, get in touch with your greatest strengths and access your intuition. This eBook guides you in that process.
As thought leader, Byron Katie, said, "I use the word inquiry as synonymous with The Work…Inquiry is a way to end confusion and to experience internal peace, even in a world of apparent chaos. Above all else, inquiry is about realizing that all the answers we ever need are always available inside us."
When you are connected to the vast source within, you will be able to actualize your potential.
Are you ready to Awaken Your Source Within?
If the answer is YES, go grab it NOW!
P.S. Start 2014 off on your best foot and sign up for The Confidence Cure group coaching course. The program is a combination of weekly group coaching sessions held by phone where you will connect with Anna and the other participants. It provides a platform for women to commit to their goals, remove negative thought patterns that hold you back and provides you with tools to build your confidence and make positive life changes. To sign up CLICK HERE.