Sylvia Nasser is Certified Personal Trainer, Master Boxing Trainer, Holistic Health Coach and more. Sylvia struggled with weight and a distort ed body image for many years.  She became a diet pill addict at the age of 17. Needless to say, the health and fitness industry is overwhelmingly saturated with products and services that promise to deliver quick results.  She's not here to promise you a beach bod in 6 weeks. She prides herself on taking this stand – Fitness is a LIFESTYLE; it's about moving your body for the rest of your life and loving every second of it.Because it's natural. Humans are meant move, jump, leap, skip…..we are NOT meant to remain stagnant nor are we meant to dislike our bodies and our circumstances. In this episode, we talk about Sylvia's battle with diet pill addiction, how she got help in NJ and how she became a fitness instructor, how to have fun with fitness and more.
Background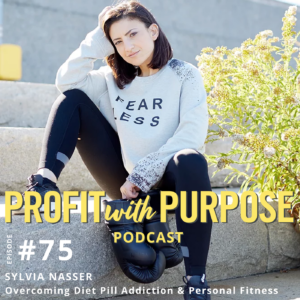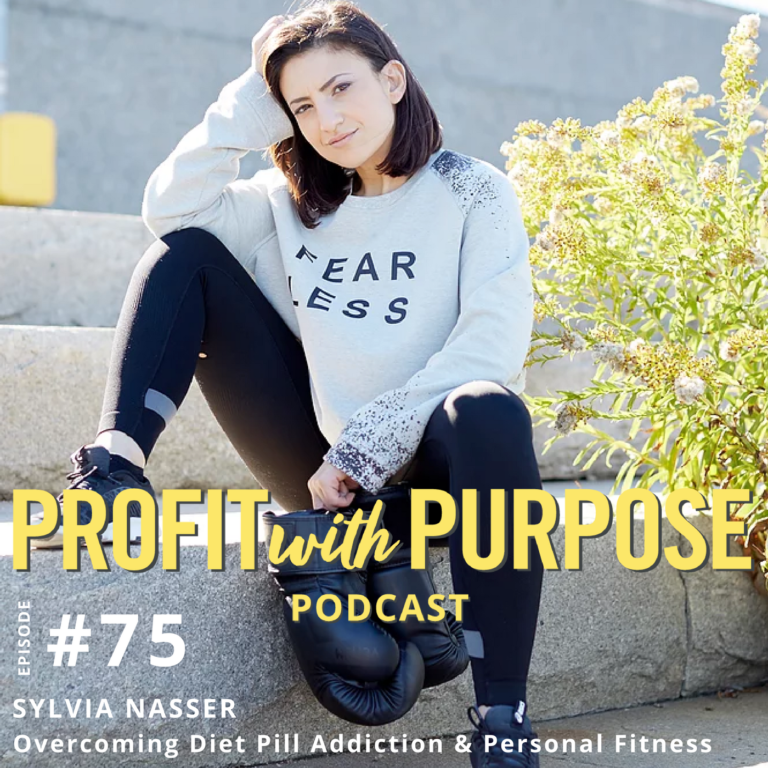 Sylvia was overweight as a child and always wanted to be a dancer and take karate classes. She played basketball and volleyball in elementary and middle school. She liked the idea of moving but always felt uncomfortable moving because she was heavy and that made it difficult for her to indulge in physical activities. She was unable to take part in a lot of physical activities that most of the kids take part in, all because of the fact that she was overweight. This made Sylvia a shy, introvert person and she felt ashamed of her body.
What contributed to you being overweight?
Sylvia and her parents lived in her grandmother's apartment. Her grandma took care of her when her parents were working. Shortly afterward, her parents moved to Long Island and she had to live with her grandmother during the week and would meet her parents on weekend. She did this until high school. She had a very unhealthy diet while living with her grandmother. That contributed towards excessive weight. Sylvia believes there was also an emotional element because her parents weren't there with her and that contributed to Sylvia eating unhealthy food all the time.
How did you become addicted to diet pills?
Sylvia was 17 when she moved to high school and around this time she excessively started to consume diet pills. She did not have a lot of friends up until her senior year in high school. She wanted to gain popularity among girls in high school. She wanted to look good for senior year high school prom. During this time, she joined the gym for the first time to lose weight and started to consume diet pills as a way to lose weight and look more attractive.
How did you enter in the fitness world?
After completing her college, she applied for master's program in Stony Brook and got a scholarship in the program. She was able to complete her master's program in a year. During that year, she joined a gym as a desk girl and got her gym membership for free so she was able to take classes for free. She fell in love with the fitness classes over there, she loved the fact that they had the best strength training equipment. She haphazardly fell into teaching fitness. One of the instructors in gym quit and Sylvia's boss was looking for an instructor so she offered her the job which Sylvia accepted. She worked full time in corporate and taught classes part-time. It was during this time Sylvia started to believe fitness was her passion.
How did you build your business on fitness?
She got her group fitness certification and personal training certification through the Aerobics and Fitness Association of America (AFAA). When she had a corporate job, she had a business coach who was in the fitness world. This person helped her build her brand. He helped her start her first boot camp. Sylvia eventually had to break up the business relationship with her business partner and had to manage her business on her own. 
You had a tough time dealing with personal health during the early stages of your business. What was it like?
When she decided to run her business solely on her own, she had to do everything on her own and it became very stressful for her. During this phase, she was also planning her wedding, her grandmother passed away and she started to develop symptoms that were not normal for her body. She was diagnosed with an extremely low white blood cell count and the doctors recommended her to take a bone marrow test to rule out cancer. It was a huge sigh of relief when cancer was ruled out of the picture and Sylvia finally realized she did not take care of her body properly and was constantly consuming things that were not right for her body. Even though any terminal illness was ruled out but Sylvia's symptoms persisted. Her rashes would not go away, she was going bald, had a lot of pain while brushing teeth. She started to develop joints pain and could not move her hands enough to lift a dumbbell. After a lot of consultation with different doctors, Sylvia was officially diagnosed with Lupus. She knew why this had happened. She had stressed her body by taking in so much stuff and was completely overdoing it. She was excessively consuming different diet pills. She used to take two different fat burners, one Isagenix pill. She was excessively working out and extremely busy in her classes.
What is one piece of advice you would give to people struggling with their body image and their relationship with their body?
Sylvia says to have fun with your body if you can move your body easily. She herself loves boxing so she does boxing. Its not because she aims to lose weight through boxing and get her body in shape but only because she enjoys it. When you make fun the goal, it helps you get to your main goal easily.
How can we connect with you?
You can connect with her through her website.
Her website's URL is
You can also find her on Instagram via the following URL