Today's guest is Tatiana Amico who is a health coach and her passion is helping busy mama's realize that they deserve to be healthy and happy and how to start taking care of themselves finally. She spent years basically as a professional dieter with no clue what she was doing and constantly making excuses. She knew she needed to take care of her to give her body and mind the care it deserved. So she spent time researching, learning and gaining as much knowledge as she could and then put it into action. Bam, her life changed and it happened. She became happy and healthy and fit. She learned to take care of herself and in turn she has been better able to take care of her family. Tatiana helps you through education and actual steps and makes it simple. In today's episode we discuss important information and motivation and guidance and the necessary support and accountability to stop wishing and start doing what works and lasts.
Who Tatiana Works With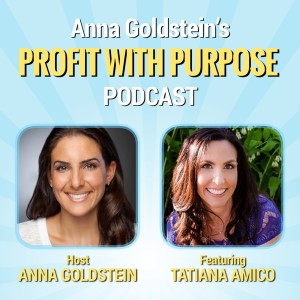 Tatiana works with women, mainly moms, who are saying they really don't want to do another diet. They want to wake up every morning knowing what to do, having energy, feeling peace, being confident and not getting stressed out about what they are going to eat. These are the ones that are really ready and want to change their lives and show their kids what health is and be an example to them.
What a healthy eating day looks like for Tatiana
She usually starts her day with a green smoothie. It's easy to jam pack nutrition and make it super quick. Start small with something like spinach and work your way up to kale. She doesn't do dairy so non-dairy yogurt, coconut water or something like that and a high quality green algae supplement. Then add nut butter or avocado and blend that up and you're good to go.
Tatiana is vegan so she eats nothing with animal products. She will eat oatmeal with berries or lentils which she will make in batches and frozen vegetables. She eats simply so she makes big batches of stuff and throws it in a bowl and heats it up.
She tries to get a salad in but if she can't she will have another green smoothie. Dinner might be tacos made from corn tortillas, lentils, salsa and a guac loaded with veggies.
Complexity
Tony Robbins says, "complexity is the enemy of execution." We tend to think we have to make this huge, complicated change when really it's about keeping things simple so you can execute it. Keeping it simple makes it so much easier.
What Tatiana's four year old eats
He's obsessed with apples and almond butter but he will have oatmeal, berries, rice & beans from Chipotle. She gets Ezekiel bread and he likes that with coconut oil and veggies. Check out EccellaSmiles.com for the dentist's recommendations on the healthy foods.
The first step to helping someone
The first step is getting them to really think about what it is that they want. Who is the woman that you want to be in a month, six months or a year? Dig deep into the why and visualize that woman, that bad ass lady that you want to be. Who is she? How does she feel? Then we need to take action. Write it down and remind yourself everyday who you're going for.
The second step is educating and giving them the tools they need to do this. A lot of this is mindset stuff. This isn't just about eating right and exercise there's so much more to it. Find here a more detailed description of fat burning supplements to be consumed while doing exercises or workouts.
What's the best advice you've been given?
The biggest thing is to be you and not compare yourself to others. It's easy to look at the person on the magazine or something and say why can't I be like her. But we're all different and you don't know her story. Be you, do what you need to do and focus on that. Use others as inspiration but just do your thing. You're on your journey and others are on their journey.
Anna Goldstein
,
become a life coach
,
business coach
,
business coach new york city
,
business coach ny
,
business coach nyc
,
california
,
career coach
,
career coach new york city
,
career coach ny
,
career coach nyc
,
Confidence
,
entrepreneur
,
entrepreneur coach
,
find your purpose
,
gabrielle bernstein
,
how to start a business new york
,
how to start a business new york city
,
IL
,
LA
,
life coach
,
life coach new york city
,
life coach ny
,
life coach nyc
,
life coaching
,
life purpose
,
live your purpose
,
new york
,
new york city
,
new york life coach
,
new york life coaching
,
new york time life coach
,
new york times life coach
,
nj
,
ny life coach
,
nyc
,
personal coach
,
personal development
,
personal life coach
,
personal life coaching
,
podcast
,
profit with purpose
,
self help
,
self improvement
,
Self in the City
,
tony robbins