Bre Kali is celebrity makeup artist and shares her incredible journey of transforming from a career in finance to a successful business owner. She shares her story of transformation and gives tips on getting  perfect eyebrows for yourself.
Background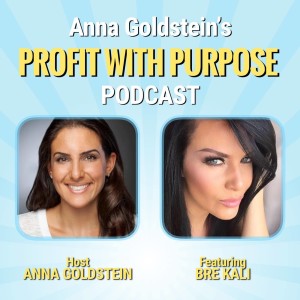 Bre felt like she needed a change in her career path. She was not passionate about her work. Her educational background was in health sciences and she was working in finance. Bre had to look for something she was passionate about and make good money out of it. Bre decided to work with a life coach for this purpose and that is when she meet Anna Goldstein. Anna asked Bre to list down things she was passionate about. That is when, for the first time, Bre talked about her love and interest for makeup. However, she was doubtful if she could make a career out of it. She felt like a career as a makeup artist was very shallow as a profession, thought that people do not respect you as a makeup artist and that prevented her to go in the direction she was meant to be on.
How she made the transition?
Anna suggested her the exercise of brainstorming. She asked her to write things on paper that Bre liked doing. Bre knew she was passionate about makeup but had this opinion that makeup artist are dumb girls, they make no money and even a "brain dead duck" could do makeup. She had this idea in her mind that she has education and should do something, which involves using her mind, which to her seemed impossible as a makeup artist. She felt that it was superficial to apply makeup on people who wanted to look 'pretty'. She felt like she could not have an impact on people but her views changed drastically when people started appreciating her for her work and how it changed their personalities.
How did her business grow and what does her business look like now?
A friend of Bre saw Bre's work on her Facebook page and asked if she would be interested in working for a photo-shoot. She worked and it was a huge success. The photos looked great and helped Bre get her first gig, her first gig after her career in finance was terminated. Within five weeks of letting go of her work in finance, she earned 1500 dollars from one day. One thing led to another and Bre was soon working for renowned makeup companies. Bre always wanted a billboard of her own work in Times Square and in 2016, her dream came true when a billboard, exclusively, with her work was displayed in Times Square. Bre says she worked very hard for it and it took her a lot of time and effort to get that kind of recognition. She says her business is ever growing and she has worked for so many people from different parts of the world that she does not even worry about her business from a financial point of view.
How to have amazing eyebrows?
She says many people ask the same question from her and it is actually very difficult to explain it verbally without giving a practical demonstration. A general rule is that arch should be on the two third or three quarter of the brow. If it is in the middle or at the end, you should ask the thread person/brow waxer to fix it for you. Buy yourself a brow pencil, which matches your brow color. She also recommends buying a brow brush. Bre says eyebrows shape your face and they draw a lot of attention if not done well.
MAC Eye Shadow Colors Mentioned:
Omega
Coquette
Concrete
Mystery
What is the best advice she ever got?
As far as makeup is concerned, she is a big believer in the quote "the number one rule of makeup is that there is no rule for makeup". The reason she feels that way is that when she started teaching herself the art of makeup, she felt she had to follow the rules of conventional makeup, that a certain type of makeup is suitable for a particular complexion but she realized none of that was true. She also made her own quote for beauty industry which goes on like this
"We should all try to be our best self. Who we are outwardly is a reflection of whoever inside. Letting go of some of the fears or the negative believes that we have is the first step in transforming ourselves into going down our path that we are meant to be on" –Bre Kali
Here you can read about the difference between mink lashes and natural lashes.
How can we connect with her?
You can connect with her on instagram. Link is
https://www.instagram.com/brekali_mua/?hl=en
You can also find her on Facebook. Her Facebook page is
https://www.facebook.com/MakeupArtbyBreKali
You can find her on tumblr
http://makeupartbybrekali.tumblr.com
Her website's URL is
Anna Goldstein
,
become a life coach
,
bre kali
,
business coach
,
business coach new york city
,
business coach ny
,
business coach nyc
,
california
,
career coach
,
career coach new york city
,
career coach ny
,
career coach nyc
,
celebrity makeup artist
,
Confidence
,
entrepreneur coach
,
gabrielle bernstein
,
how to start a business new york
,
how to start a business new york city
,
IL
,
LA
,
life coach
,
life coaching
,
life purpose
,
new york city
,
new york life coach
,
new york life coaching
,
new york time life coach
,
new york times life coach
,
nj
,
ny
,
ny life coach
,
nyc
,
personal coach
,
personal development
,
personal life coach
,
personal life coaching
,
self help
,
self improvement
,
Self in the City
,
tony robbins