She spent 26 years as a highly regarded marketing and advertising executive stewarding some of the world's most iconic brands like Harley-Davidson, Visa, McDonald's, and AOL. In 2016 she walked away from the corporate world to nurture her soul and discover her purpose. She christened herself Chief Soul Officer and called the journey her Soulbbatical. It did more than change her life, it became her calling. 
In 2018, Shelley opened the doors of her own company with the mission to liberate the souls of leaders and organizations, by inspiring them to realize their greatest purpose and potential. Shelley's intention is to help her clients discover, as she did, a way of being that is aligned with their authentic self (soul) and deeply rooted in a commitment to living and leading courageously. As a certified professional coach, she works with individuals, entrepreneurs, and executives at Fortune 100 companies like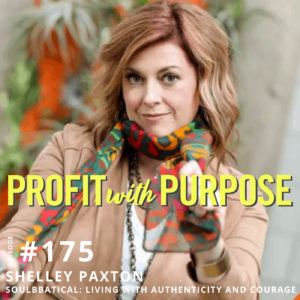 Lowe's, Inc. and Mars, Inc. 
Time Stamps:
[04:15] Tackling the question "what are you pretending not to know?"
[07:35] The emotional roller coaster that she went through
[09:37] Discovering the path to reconnect with oneself
[12:03] Realizing that busy-ness is an addiction
[18:23] Setting priorities right: freedom, authenticity, and courage
[19:45] The beautiful simplicity of clear articulation
[23:13] What happened when you live so out of alignment with yourself
[30:12] Describing the book's mission to liberate a billion souls
[33:28] How to find meaning in the madness while being a mom
[37:09] The importance of choosing conscious growth
[38:58] How to start sharing your beautiful talents to the world
[41:24] Why discipline leads to freedom
Quotes:
"It's about choosing to live more authentically, courageously, and purposefully, whatever that means for you."
"When I finally shifted into prioritizing my life, tectonic plates move for me in my life."
" I stand for rebelling, for who we are, for what we want, and for the impact that we want to have in that world, in the world."
"I have never felt more profoundly on purpose than I do now. Having found my true self, understanding who I am at the core and what my calling is in the world, and I say my calling is to liberate souls."
"We create stability from the inside out. So that's like reconnecting with our GPS and true North."
"When we believe in ourselves and we commit to something and we set that intention, we can do it."
"My favorite question to ask everybody now is, what are you rebelling for?"
Links: