Nicole helps passionate and driven service providers build a business and team that they love through a combination of leadership, management, hiring and mindset support. After managing million-dollar TV projects, building a multi-six figure agency of her own, and mentoring other service providers to grow teams without sacrificing their sanity, she knows what it takes to step into the CEO role in your business. When she left her corporate job, she vowed to never put her happiness and well-being in someone else's hands but just a year later, she was doing the same thing — just in her own business. In that moment, she made a decision. She was going to take everything she already knew about leadership, management, and power and apply it to herself… and when I finally took that step, things started changing — pretty quickly too. Her clients started respecting my boundaries, my team stepped into their leadership, and I increased my take-home pay by 85%! What she figured out is that business owners needed to learn how to step into the CEO role of their business and develop their leadership and management skills so that they could feel confident handling ANY situation that was thrown their way. If you're feeling booked out and burnt out, Nicole can help you reclaim your time and double your revenue. In this episode we talk about how mindfulness helps her be more effective in business and life, discovering your zone of genius, a question that changed her trajectory and that you can ask yourself too, and so much more.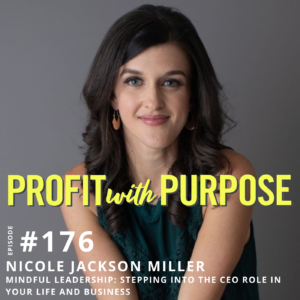 [02:15] How Nicole is supporting done for you service providers
[03:35] The transition to being more of the CEO
[06:37] Discovering herself when operating in that zone of genius
[09:03] Being mindful, especially even with social media
[13:23] How she overcame the struggle with an eating disorder
[15:45] The transition into theatre
[16:28] How to think clearly in the middle of fear or doubt
[18:13] How to practice great mindfulness awareness
[19:12] allow yourself the time to make decision
[37:09] The behavior of people who are at a level of success
[38:58] Thoughts on essentialism
[41:24]Embracing the process of transformation
[45:29] How powerful it is to control your feelings and state
Quotes:
"I think it's finding what is it that makes you feel like yourself and then, paying attention and practicing that as much as you can.
"There's a lot of value in reconnecting to that part of you that auditions, for example. For me, it's like tapping into the athlete within me"
"I find that sometimes business owners just don't know how to prioritize because they think that they're seeing all these people online doing all of these different things, and there's a lot of sugar. So usually it comes back to getting some sort of a financial return."
"Pay close attention to what's happening and how you're feeling and start thinking about what's working, what's not working, what might need to be tweaked here."
Links:
https://www.nicolejacksonmiller.com/
https://www.pinterest.com/theprojectdesigner/
https://www.facebook.com/nicolejacksonmiller/
https://www.instagram.com/nicolejacksonmiller/