Today's guest is Susie Moore. Susie is an advisor to high growth start-ups in Silicon Valley and New York City. She is also a business coach, life coach and author who specializes in advising and inspiring entrepreneurs on how to find their passion, find their side hustle and make an impact and a fortune. Her first book What If It Does Work Out? debuted as an Amazon best seller. In it she shares secrets to transform your passion into cash, pulling from her successful career as a Fortune 500 sales director. She also has helped build three different start-ups, all of which were sold, the most recent being sold for $405 million. She has been featured on The Today Show, Business Insider, The Huffington Post, Forbes, Times Inc, Mind Body Green and a host of other media outlets and is the resident life coach for Greatest. Susie's insights have been shared by fact leaders including Ariana Huffington and Spanx founder Sarah Blakely.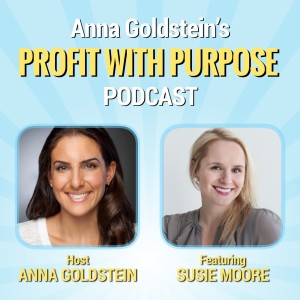 Principal behind side hustle
Originally Susie thought people would want to start side hustles to make more money. Initially, that is what people were coming to her for in coaching. They were asking how to make money doing things on the side, how to launch, get started, come up with an idea. But increasingly she saw people who were taking her courses and reaching out to her who wanted to contribute in a meaningful way. Don't be boxed in and cornered. Find that side hustle not just financially but be creative and learn something completely on your own time. We want to have that self-expression, we want to have the fulfillment and in our jobs, we might not be getting that and we want to fill that need ourself and then in turn make money. Money is often something that keeps people stuck in their quote unquote day job.
Overcoming fear
It's a very difficult decision to leave your job and start your own business. Susie had a career in Ad sales for over a decade which she enjoyed but she knew it wasn't her life's work. She didn't make a cold leap but created her business over time. When she started attracting clients on a consistent basis and making money she knew it could be viable. Eventually, she got to the point financially where she could take a risk but it was still very scary.
Managing fear
Everyone has fear but we manage it differently. Fear comes in everyone's life so it's important to remember that everyone feels the same. It's normal so give yourself a break when you feel afraid. Susie has a trick she uses where she will reflect on her past achievements when she needs that boost of feeling like she can do it and it's going to go well. Remember to be present. At the end of the day we're all just passing through life. We're all going to die so don't take everything so seriously.
Book recommendations
Magic of Thinking Big by David Schwartz. One of the things he says is if you're on the diving board looking into the swimming pool, just jump. The longer you stand on the diving board the harder it gets, the deeper the water looks and the scarier it is. When opportunity comes up say yes and take action.
Why Not Me? by Mindy Kaling
Asking for help
A lot of people think asking for help is not a very empowered thing to do but it's actually an empowered thing to do. Sometimes we get scared and have pride and think we should already know that. We also don't want to bother people. There's a lot of reasons we don't ask for help. We feel ashamed and we feel guilty but asking is such a common quality in successful people
Best advice you've been given
You don't have to do what your parents did or what your peer group does. It's okay to think in proportion to the dreams you have. What do you want?
Connecting with Susie
Susie's website is www.susie-moore.com. All her content including celebrity interviews are on there and you can sign up for her newsletter.