Elsa Isaac is a professional fashion stylist and shares her incredible journey of how she gained success in her field and how she made a career by being a professional stylist.
How did you get into fashion? Were you passionate about it?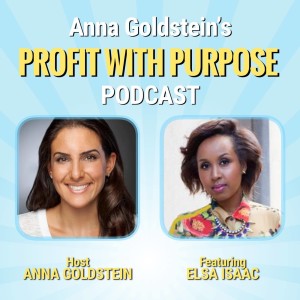 Elsa always wanted to do something related to clothes and felt like she should become a designer when she was young. Nevertheless, styling was not something she heard a lot about while growing up. She did however studied fashion marketing back in her school in Toronto. The program she was enrolled in either branched into fashion designing or marketing and Elsa chose marketing. While studying, she also worked part-time where she had a coworker who worked in music industry. One day, her co-worker who knew Elsa's interest in styling asked her to style a video he was doing for an artist. She was reluctant at first and felt like she would ruin the project but her co-worker did not take no for an answer. She had to shop for 12 people for the video, putting together each outfit. Someone complimented her work and that is when Elsa realized how easy it came to her, and that she should give this profession a consideration.
At what point in her life did she start dreaming of becoming a stylist?
Probably when she was finishing her college in Toronto, she realized she loved working as a stylist. She thought it gave her independence but financially she was still worried what kind of life it could give her. She just knew she wanted to do more of it. However, Canada is a smaller market to do something like that and so after visiting New York she realized she could do expand and grow more in New York, so she moved to New York. She started by assisting other stylist in New York, made connections, and learned more about city and the business. While working in New York Elsa realized that being a stylist is not only about creating visionary looks, it is a lot more than that especially if you intend to own or run such a business. She believes that if she had stayed in Toronto, it would have stunted her growth.
How did she get the assisting jobs in New York?
The same friend who helped Elsa earlier in her career by asking her to style a music video helped her in finding a stylist who was looking for an assistant. Elsa's stylist thought she was crazy to come all the way from Canada to New York just to assist her on a job. Elsa ended up working for her for almost four years. She got in touch to other stylist through this particular stylist.
What is the general procedure she follows for her client?
Elsa always starts with the body shape of her client. She says many women are clueless about their body shape and the kind of clothes that would suit their body. She also has a body shape calculator, which helps you find the type of body you have. It is available on her website and the website's URL is attached below in the show notes. Once body shape is discovered, then Elsa help her clients find the right clothes accordingly. She also asks her clients different questions like "three words they would want their clothes to say about them?" They come up with these three words through a process. The idea is to discover who the client are and how they want themselves to look.
How was it like working for Marie Forleo?
Elsa found her on Internet when she was in doubt as to what she was doing and why she was doing it. There was a brief period when contemplated her future, wondering if being a stylist was meant for her. She does not remember what she was searching online when she came across Marie (life coach); saw one of her yearlong program, which had a $2500 fee. Elsa thought it was an insane amount of money and why would someone even pay such amount of money. Back then, Elsa had no idea about marketing and life coaches. She signed up for the program and thought a life coach might help her to put her life in perspective and decide for herself if she was meant to be a stylist. A year later Marie ended up hiring Elsa for some promotional work and that was because they had interacted in the program. Elsa has been working with Marie from 2011 and considers Marie her mentor. Elsa says she was not sure if the program would benefit here even after spending such an amount of money and that is why she never told it to people close to her. However, Elsa believes joining that program was the best decision she ever made because it made her who she is today.
How do you put together a client's look?
When a client comes to her, she shops for them. There is a lot of preparation, conversation with clients, asking them questions, in terms of what they are looking for and Elsa uses that information to shop for her clients. She says it helps if the client is not there in the shopping process because they seem to talk themselves out of wearing a particular dress based on their experience or a general opinion. Elsa think clients always have a weird perception of their body so it good to have an outside opinion in the form of a stylist. Elsa thinks that this process takes away the pressure for client in finding the right clothes. It is the job of the stylist to help them find what suits their body.
What is the best advice you have ever been given?
She got her best advice from Marie Forleo, "You can have it all, you cannot just do it all" was what Marie once said to Elsa. Elsa thinks it was a revelation for her. This has helped Elsa to give herself a break from the daily grind of running her own business, enabled her to give herself some time, which is very important for all of us. Elsa believes no matter how committed and determined you are to your work, you just cannot work all the time. It is physically not possible.
How we can connect with her?
Her website's URL is
You can find a bunch of resources on her website including the body shape calculator.
#businesscoach
,
#businesscoachnewyork
,
#businesscoachny
,
#businesscoachnyc
,
#entreprenuer
,
#executivecoachny
,
#executivecoachnyc
,
#lifecoach
,
#lifecoachnewyorkcity
,
#lifecoachny
,
#newyork
,
#newyorkcity
,
#newyorkcitylifecoach
,
Anna Goldstein
,
become a life coach
,
brooklyn
,
business coach
,
business coach new york city
,
business coach ny
,
business coach nyc
,
california
,
career coach
,
career coach new york city
,
career coach ny
,
career coach nyc
,
Confidence
,
elsa isaac
,
entrepreneur coach
,
how to start a business new york
,
how to start a business new york city
,
IL
,
LA
,
life coach
,
life coaching
,
life purpose
,
marie forleo
,
new york city #lifecoachnyc
,
new york life coach
,
new york life coaching
,
new york time life coach
,
new york times life coach
,
nj
,
ny
,
ny life coach
,
nyc
,
personal coach
,
personal development
,
personal life coach
,
personal life coaching
,
self help
,
self improvement
,
Self in the City
,
tony robbins