In November 2014, I was five months pregnant and had signed up to attend a book launch event in New York's Financial District.
On the night of the event, I had worked all day and was a bit tired. It was dark, cold, and rainy outside. My husband had just come home from work and my introverted self did not want to go out. 
I preferred to stay home in my warm and cozy apartment with my husband and dog. I didn't want to schlep from Williamsburg, Brooklyn to downtown Manhattan (New Yorkers can be travel snobs).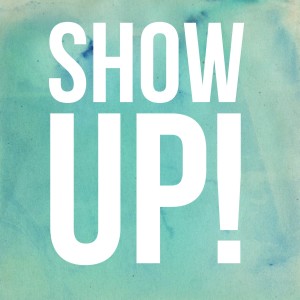 But there was another voice within me that said, "Just show up."
Most of life is showing up. You do the best you can, which varies from day to day. – Regina Brett
And from my experience, when I listened to that inner voice, it usually resulted in something good.
So I mustered up the courage, threw on some makeup and rain gear and trekked downtown to hear peak performance coach, Jairek Robbins speak about his book, "Live It: Achieve Success by Living with Purpose." 
It was an intimate group and I got to know Jairek. His stories, teachings, humility and authenticity stood out. In my opinion, he is one of the best coaches around. 
And that's not all. Jariek is also an author, speaker, Ted Talk presenter, world traveler – and philanthropist. He is a man on a mission focused on developing creative solutions for accelerating results. 
His goal is to increase and maximize your overall performance. 
And because I "just showed up," on that dark, cold and rainy day, I was able to have him as a guest on my podcast. 
There has been several times in my life where I didn't want to "show up" because I was too tired…too busy…too "whatever"…
And when I didn't give into that voice, something great came out of it. The best experiences are underneath resistance.
What's one thing you are resisting that you can take action and show up?
Let me know in the comments below.
Anna Goldstein
,
become a life coach
,
business coach
,
business coach new york city
,
business coach ny
,
business coach nyc
,
california
,
career coach
,
career coach new york city
,
career coach ny
,
career coach nyc
,
Confidence
,
entrepreneur coach
,
how to start a business new york
,
how to start a business new york city
,
IL
,
jairek robbins
,
LA
,
life coach
,
life coaching
,
life purpose
,
new york city
,
new york life coach
,
new york life coaching
,
new york time life coach
,
new york times life coach
,
nj
,
ny
,
ny life coach
,
nyc
,
personal coach
,
personal development
,
personal life coach
,
personal life coaching
,
self help
,
self improvement
,
Self in the City
,
tony robbins