David Wood is a personal and business coach. David left his cushy Park Avenue job 20 years ago to explore both the outer world and his own inner world. At the individual level, he helps high performing entrepreneurs, executives, and leaders to Play for Real – in their own growth, in their relationships, and at work. By integrating three main principles of Real Truth, Real Daring, and Real Caring. At the corporate level, he helps companies to improve performance and retention. He has consulted Fortune 100 companies – such as Sony Music, Proctor & Gamble, and Exxon. He was recently voted into the Transformational Leadership Council, along with such thought leaders as Stephen M.R. Covey, Jack Canfield, John Gray, and Marianne Williamson.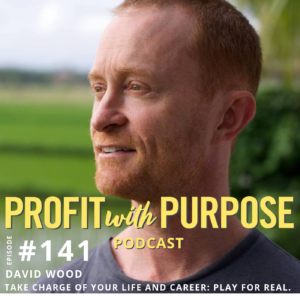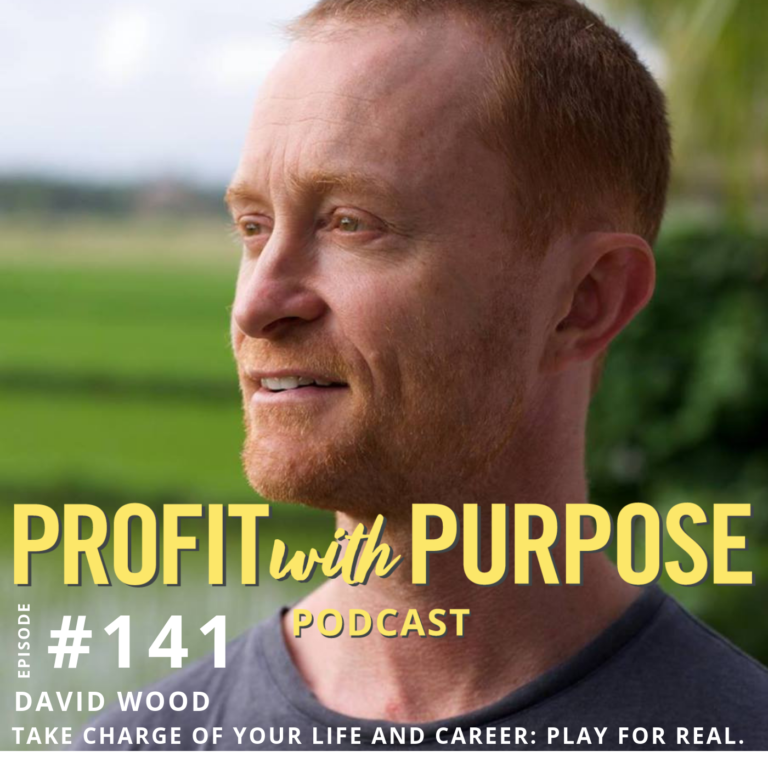 In this interview we get real honest, in fact, David reveals something he has never shared on a podcast before — The real question is….what will "Play for Real" mean to you?
I've been coaching for over 10 years, and when I first started coaching your website came up a lot. You were owning the life coaching scene.
There was a point where David was the top 3 results on the search engine. He was fully committed to coaching. After becoming burnt out, David retired, but he is now back on the coaching scene with renewed passion.
You have figured out how to do something most people dream about, which is living an abundant life, making a huge contribution, and having a blast every step of the way. What is your secret to success?
David is very self-directed. He creates a vision he can be excited about, and then he uses hacks to create productive days so he can do what needs to be done to fulfill his vision. It can be hard to carry out consistent action in the face of no results. For people who can't do that, a simple hack is getting yourself a coach.
David considers himself a possibility generating machine. Other people assume that something can't be done. If David is told that something can't be done, he will go out there and do it.
What are some of those hacks? How do you get yourself in the right state if you aren't feeling it?
He has had a lot of depression and anxiety in his life, which can be several weeks of darkness but can also manifest as not wanting to send an email or do anything at all that day. But his job requires that he does stuff to bring in revenue. One hack is caffeine (although he restricts himself to one cup of coffee and one cup of tea a day). Once a week he takes adderall which enables him to get a solid 8 hours to work done. He likes to do morning pages which are supposed to be 3 pages of stream of consciousness writing and never read it. But David likes to use it to uncover the things he wants to do.
Some of those hacks are things that people often try to steer us away from, such as caffeine and other stimulants. Particularly in the self-development field. Thanks for sharing that.
David used to think that all medication was bad. It is worth being wary about medication as humans have a tenuous relationship with addiction. If you like coffee, you'll probably drink more of it and run into problems because you are abusing it. David went from thinking all medication was bad to taking antidepressants. The turning point came when he was talking to a colleague who took Welbutin and asked her why she took it since she was into personal growth. She told him that she likes herself better when she's on it. So he got off his high horse. He tries to be careful with how he takes medication by doing research and mixing things up to avoid tolerance.
Is that part of the caring element you were talking about?
David believes in 3 core pillars – Truth, Daring and Caring. He acknowledges that caring isn't the sexy part. David had a breakdown. He would be unable to sleep because adrenaline was shooting through his boy. A doctor friend told him to go on medication, but he refused because he wanted to heal it naturally. David had reached rock bottom and realized that there is a time and a place for daring, but if you don't acknowledge your limitations and nurture other areas, things will fall apart. He realised he needed to add the 3rd pillar of Caring.
You had all this success. Then you had these breakdowns. Would you agree that in many ways breakdowns can actually become the catalyst to success?
Recently, David heard someone say – "Your core wounds can become your greatest gifts." Many of the people in the coaching community have some kind of wound or past trauma they have had to overcome. If David hadn't had the breakdowns or experienced childhood trauma, he wouldn't be on this path. When he was 7 he watched his 5year old sister get killed in a traffic accident. He learnt how to shut down his emotions and not feel anything. This is when he started to be solution-focused. In his 20s he went to a psychiatrist who helped him to realize that he hadn't grieved. He has now spent the last 25 years reconnecting to his emotions and learning how to feel. He now gets to bring that to other people who are system and task-oriented but would like to have deeper connections with themselves, their partner, their kids, and all the other people in their life.
How do you understand yourself so you can find those gifts that allow you to get paid for who you are?
David used to teach people how to be a coach. Then people asked him how he was able to travel and coach all over the world. So he wrote the book Get Paid For Who You Are. Now he's interested in how do you love your life. He wants people to be able to be on their deathbeds and have no regrets. Part of how you do that is to have fulfilling and gratifying work.
How do you find your gifts?
There isn't a magic answer. When David started coaching, it happened organically, but then he stopped. Recently a friend suggested that he get back into it and he realized how much he loves it. Then within coaching, he has found the core themes which light him us – Truth, Daring, Caring and Connection. The short answer is to read the book The Passion Test and get yourself a coach.
I like how you say it takes time. Sometimes we don't respect the process.
You have to take action. Even if you don't know if it's the right action.
How do you view the coaching industry at this point in time?
David is fascinated by the state of corporate coaching today. The role of coaches is now accepted in the corporate world.
What are some of your favorite coaching questions?
What question would you most like to be asked right now?
What coaching would you give yourself on this?
You have an app right?
David has an app called Get Real.
I found this question on there. If you had to make one rule which everyone must follow, what would it be?
That you must speak the truth all the time with the exception that if you lie you must preface it by saying I'm going to lie to you right now.
So many people are lying to themselves as well as to others. It's so toxic because people are afraid to say the truth.
It takes a lot of guts to tell the truth. What if they don't like who I am because of something I said? What if I don't get a promotion because of saying that? It can be transformative to share your inner dialogue. It can take a lot of courage.
One of the greatest hacks you can play on yourself is to tell on yourself. Tell someone your inner thoughts and dialogue.
Do you have a question that you repeatedly ask your self?
What did you get done today? David finds it useful to acknowledge what he achieved in order to appreciate himself.
What is one thing you would love to do before you die?
David wants to play drums in a band for one public gig. He has done it as a guitarist and now wants to experience it as a drummer.
How can we get in touch with you?
David has a new podcast – http://playforreal.life/podcast/
David invites people to request a discovery session with him at http://playforreal.life/
Get Paid For Who You Are by David Wood
Links
The Passion Test: The Effortless Path to Discovering Your Life Purpose by Janet Attwood and Chris Attwood
Smart Marketer
smartmarketer.com/ 
Camp Maverick
gocampmaverick.com/
Yanik Silver
yaniksilver.com/
Steve Pavlina
stevepavlina.com/
The Artist's Way by Julia Cameron
BetterUp
betterup.co/