Michelle Aspinwell had been operating at Wonder Woman speed, using determination and endurance, this is probably something you can relate to == especially since we are quarantined – I have been more aware of how much I have been rushing! She was starting to properly understand what a brilliant organism the body is, relying on powerful, internal interactions to function at its full potential. What started as a diet evolved into to discovering and embracing so many different kinds of foods—both on my plate and the food she fed her brain through her thoughts and lifestyle. She was able to move past the oughts and ought-nots of a restrictive diet to an enjoyable and worthwhile journey in itself — an awakening of strength, clarity, and calm. Now as she approaches 48, these practices and specific knowledge has made my peri-menopausal journey one of transformation in spite of my unique symptoms. I know how to listen to the language my body uses and work to support it. She blends her years of personal experience, applying Eastern principles of healing, studying over 100 dietary theories, medical chef work and my professional certifications through IIN and AADP to empower, educate and guide women to recognize their genetic predisposition doesn't have to be their fate. Women have the power to age timelessly, preventing chronic disease creating vital longevity with lifestyle medicine.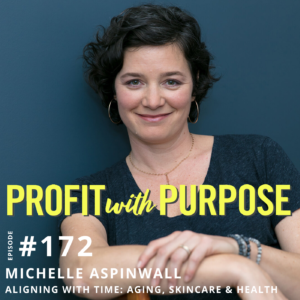 What was your awakening to Midlife?
Michelle experienced an unraveling around age 42 with the notion that it was a midlife crisis. She started to sense a "pang of time" and came to the conclusion that it wasn't a crisis after all. The feeling of unease gradually escalated as she became aware that her life was actually ok and the imbalance resided in how she felt as if she still wanted to run away. Over time as Michelle worked through her feelings and helped other women, she came up with the concept of aligning with time.
When you say unraveling, what do you mean by unraveled?
Michelle explained that it was a moment where everything was good and she had no reason to feel bad but, on the inside, she wanted to run and change things. Despite her normal tricks to feel better, nothing worked. She went inward to figure it out. During the process, she went to different doctors.
What were you experiencing, if it wasn't depression?
It was a feeling of isolation and unsettledness in her life with no specific cause of it.
Did it then become apparent that this was hormonal and not midlife and you should just ride the wave?
She describes how it wasn't so cut and dry. Michelle had to find people who used all different kinds of healing to normalize her feelings. Acupuncturists and Energy healers are examples of a few. Working with those people brought her to this current place. Harnessing and using the energy of her feelings instead of allowing them to be a storm was important.
What were you doing before this?
Michelle was a set and costume designer in Theatre. She was accustomed to talking to people in vulnerable states about their bodies. "How we perceive our body to look and how the world sees us are usually two different perspectives" That mindset really impacts her work as she takes women through this process of aligning with time. "It is really being present with the now." What we as women do now impacts us years from now. You can't be present in the past to create your future.
What do you personally do now to align with time in your life?
Michelle is particular with the quality of her food. When it's not available she will fast. She is gluten-free due to an autoimmune disorder which has its pros and cons. She washes her face every night and honors that ritual as being apart of connecting with herself and reflecting on what she is grateful for. Recently she's become serious about who she surrounds herself with and set strong boundaries about what she tolerates. She doesn't say yes to the "greater room at large" any longer too.
What are some positive things about Estrogen decline? 
To be clear, she wanted to mention that there aren't many positives but it helped her find herself. Michelle went from thinking food was everything to the great realization that consciousness, aligning with time and what we put on our body is just as important as what she put IN our body. She emphasizes how essential it is to clean up skincare and how getting chemicals out of your life is important because endocrine disrupters do a lot of harm to women. They wreak havoc on our bodies.
Michelle takes great care of her skin. Makeup is not clean but you can clean up skincare. Beauty is coming from good skin. It's an inside job, not an outside job despite popular belief. It's important to keep the chemicals at bay. Avoid fillers, preservatives, fragrances, colors… even deodorant. Lotion is a much bigger one. Use body butter and natural oils.
She created her skincare line, Askin because her son had a bad case of eczema. She started playing around with natural oils, butters, botanicals, and herbs. Through research, trial, and error She's simplified her living.
She doesn't drink plain water but Herbal teas really quench her thirst. She enjoys the task of being present as she makes her beverage. Sleep is crucial as well.
Michelle explains that we tend to live in Yang more and deplete the Yin. The more we deplete the Yin, we set ourselves up for a harder transition. Yang is the light side of the mountain, its awake and sunny, the Yin is quiet and dark. We need both to create balance. As we are younger we need to live more in the Yang and when we get older we tend to need more Yin but all in balance. As women get older, we really need more Yin.
Also, if women have trouble sleeping, they should nap during the day.
What's the best advice you've ever been given?
Women heal women.
Relevant Links: https://www.michelleaspinwall.com/
https://www.facebook.com/MichelleAspinwallCoaching/ https://www.instagram.com/michellepaspinwall/